EU-funded PhD Opportunity in Computational & Biological Vision Group
Fully funded PhD positions in vision and touch: perception and rendering of different materials.
We invite applications from enthusiastic and capable students who would like to pursue a PhD in visual or visual-haptic perception or rendering. We have eleven generously funded PhD positions open in nine different labs across Europe, supported by a Marie Skłodowska-Curie Action – Innovative Training Network (MSCA-ITN/ETN). We invite applications from enthusiastic and capable students who would like to pursue a PhD in visual or visual-haptic perception or rendering.
The positions are designed to encourage intersectoral and international collaboration and secondments. Each PhD position requires a move from another country. For example, to take a PhD position in Germany, you must not have lived in Germany for more than 12 months in the last 3 years. Applications from all over the world are welcome. Please see attached flyer and DyViTo website for more details.
The researcher based in Bilkent will focus on developing and testing advanced fMRI techniques, e.g. high-temporal and spatial resolution imaging, and applying these techniques to investigate nueronal activity during visual perception. Particularly we are interested in characterizing connectivity patterns and temporal dynamics in visual cortex underlying contextual influences using fMRI, behavioral experiments and computational modeling.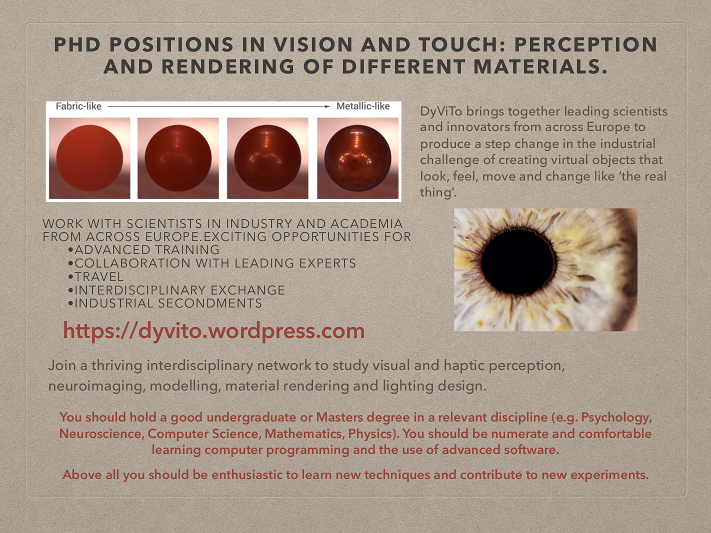 ---
Open-Rank Positions at the Department of Psychology, Bilkent University
Bilkent University invites tenure-track faculty applications (rank open) in the Department of Psychology. The university's strategic plan includes an expansion of the psychology department. Accordingly, we seek applications from promising or established scholars in all areas of psychology. Researchers in social psychology, developmental psychology, cognitive psychology and neuroscience areas, and those with interdisciplinary approaches to studying psychology are particularly encouraged to apply.
Bilkent was recently ranked #28 in the world by the Times Higher Education among universities under 50 years old. The language of instruction is English. The Department and the Interdisciplinary Graduate Program in Neuroscience offer Master's and PhD programs. For 5 consecutive years, each newly admitted Psychology major has scored in the top 5% or higher on the national university entrance exam. The Department has newly renovated research laboratories, as well as access to the university's state-of-the-art facilities, which include a 3 Tesla MR scanner, animal research center, and EEG equipment.
Bilkent is located in Ankara, Turkey's metropolitan capital with daily direct flights to Istanbul and other major European cities. Bilkent University also provides faculty members and their families with free housing and access to private health insurance.
Qualifications and Responsibilities: Applicants should have a PhD in psychology or related discipline, and should have an excellent publication record (requirements vary with rank). A demonstrated ability or the potential to secure external research funding will be a strong advantage. Faculty members are expected to maintain productive research programs. Successful applicants will teach 2 courses per semester (no teaching requirement during summer, and possibility of reduced teaching in the first year of appointment), and supervise PhD, Master's, and senior thesis students.
Appointment: The full-time appointments will begin in September 2019 (negotiable). Salary will be internationally competitive and commensurate with qualifications and experience.
Application Procedure
Applicants should submit
1) a cover letter;
2) CV;
3) research statement;
4) teaching statement;
5) pdf copies of 3 best publications; and
6) contact information for 3-5 professional references.
Review of applications will commence on Oct 31, 2018 and continue until the positions are filled. To apply please go to the following link: https://stars.bilkent.edu.tr/staffapp/PSYC2018.
For more information regarding the Psychology Department and Bilkent University, please visit the following websites:
psy.bilkent.edu.tr
neuro.bilkent.edu.tr
feass.bilkent.edu.tr
bilkent.edu.tr